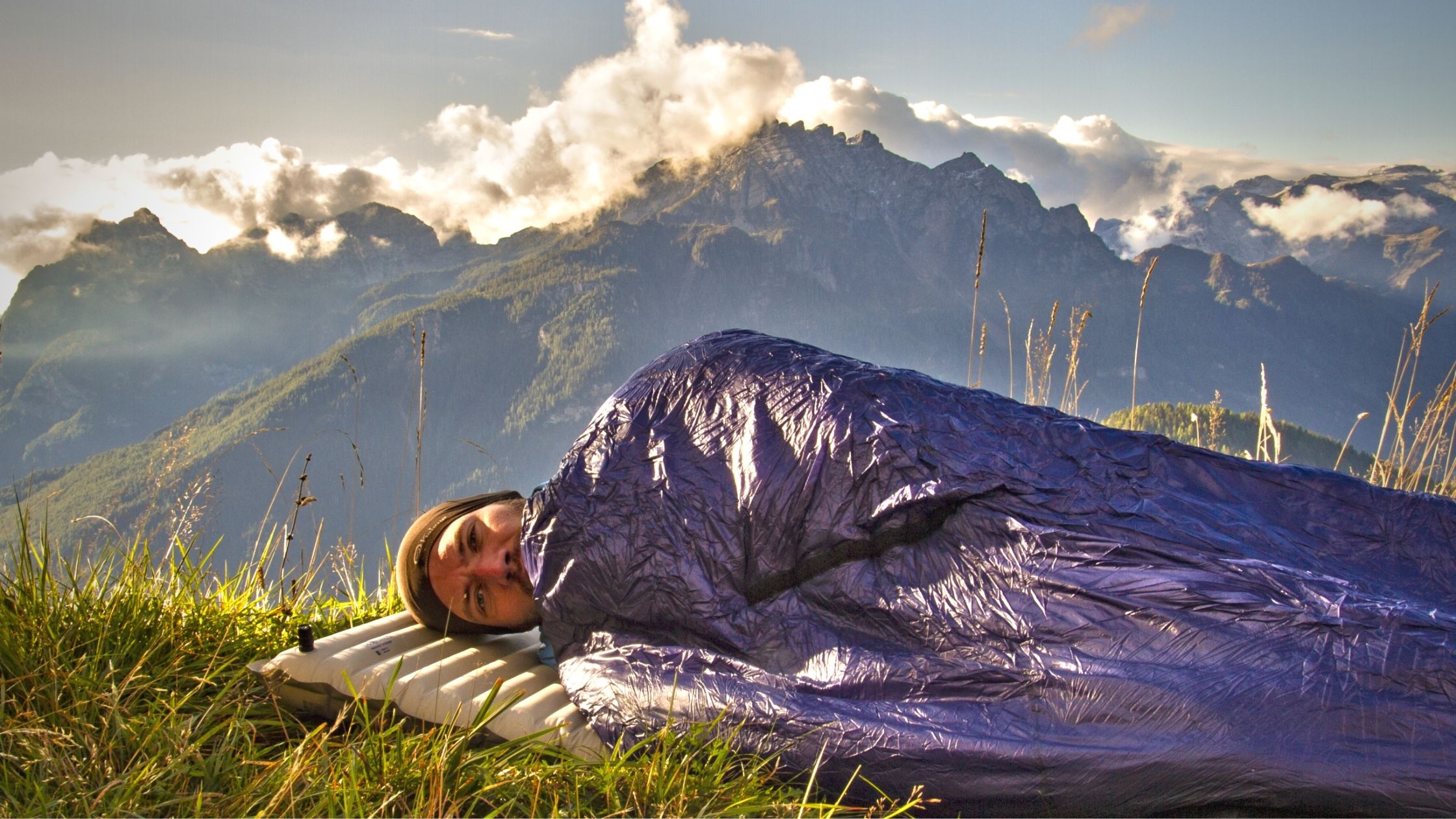 First, what is a quilt?
First, what is a quilt?
A quilt is a sleeping bag without the insulation on the back section. The idea is by taking away this least effective part of a traditional sleeping bag, you get an efficient, lightweight, comfortable and versatile backpacking "blanket."
Because a quilt doesn't wrap completely around you, it feels more like the typical blanket you use at home, allowing you to sleep the way that works for you – on your back, on your sides, or on your stomach.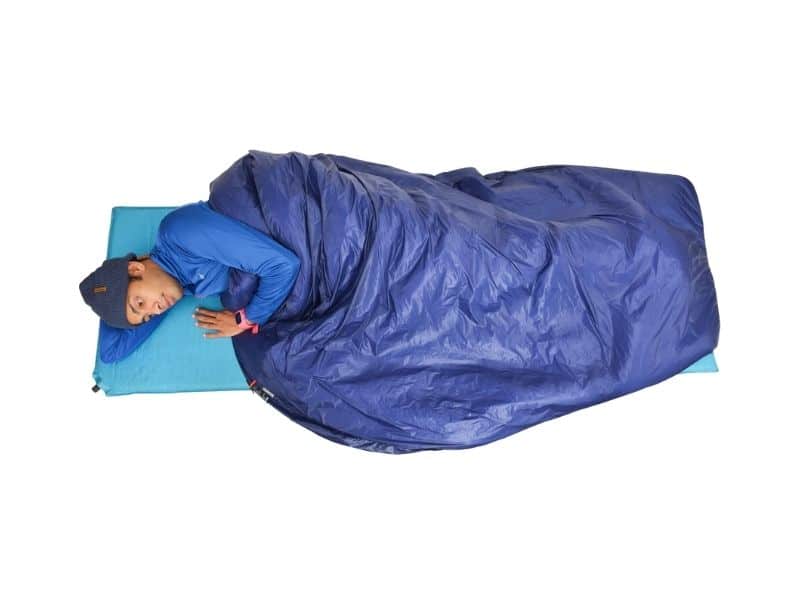 Outdoor quilts are designed to be used together with a sleeping pad – this is the gear that provides the necessary insulation between you and the cold ground.
Why is the back of the sleeping bag considered ineffective?
Insulation is not warm in and of itself – its purpose is to create "dead air" space, the air trapped between the fibers of the insulation.
This "dead air" is a poor conductor of heat and, thus, a good insulator. The more space or loft your insulation has, the more "dead air" it can trap. This "dead air' is then warmed up by the heat that your body naturally gives off.
Being a poor conductor of heat, the "dead air" acts as a barrier to heat transfer, preventing your body heat from dissipating into the cold air and, thus, keeping you warm.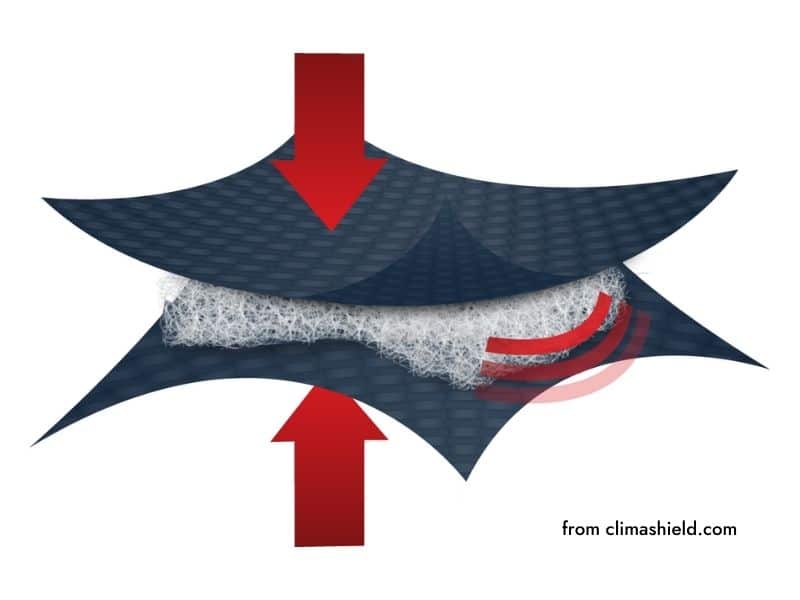 For the insulation to do what it is supposed to do, it needs loft or space for the "dead air". Without loft, there's no air trapped. Without trapped air, no warmth. This is what happens with compressed insulation. Those are extra materials (both insulation and fabric) rendered useless.
Using the Blue Bolt Solo Quilt effectively
Now that we know what a quilt is, let's talk about using the Solo Quilt effectively so you'll get that restful sleep outdoors, wherever you are and whatever the weather.
How do you keep your head warm?
For the traditional mummy-style hood, it does its job well if you're a back sleeper but if you have a tendency to toss and turn in your sleep, you may flip over during the night and end up face down in the hood. Not a comfortable position.
Blue Bolt quilts have hoods – extra length which extends past the neck section of typical quilts.
This hood, with its simple contoured design, makes it easy to wrap the quilt around the body and over the head.
It reduces drafts from coming in and allows you to cover your head comfortably whichever way you sleep.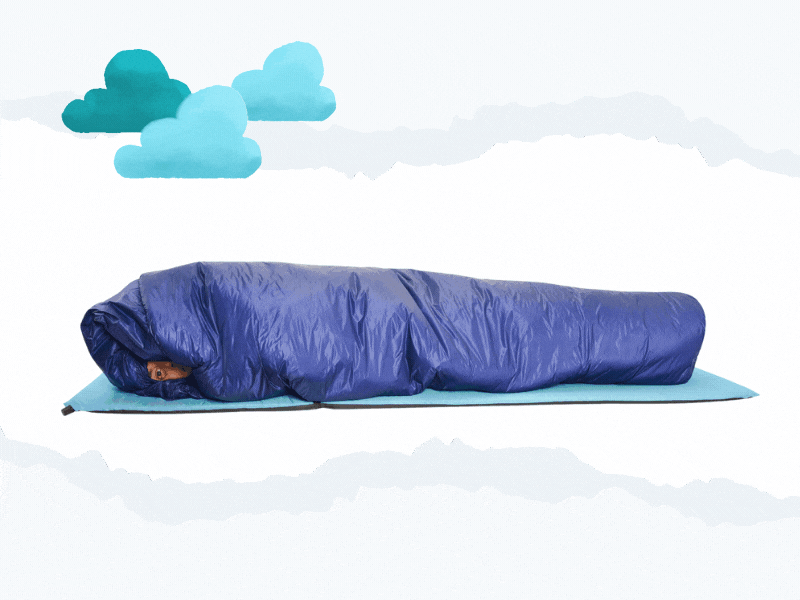 How do you avoid cold drafts from coming in when using a quilt?
Blue Bolt Solo Quilts have a strip of non-insulated breathable fabric sewn around its edges.
Its purpose is to close off any accidental gaps that will cause the warmth from coming out.
You can tuck the draft stopper under you to create a cozy cocoon of warmth that is free of drafts or you can let it just lay out on the sides for easy ventilation when it gets too warm.
The draft stopper and the hood work together to create a cozy cocoon of warmth that is free of drafts.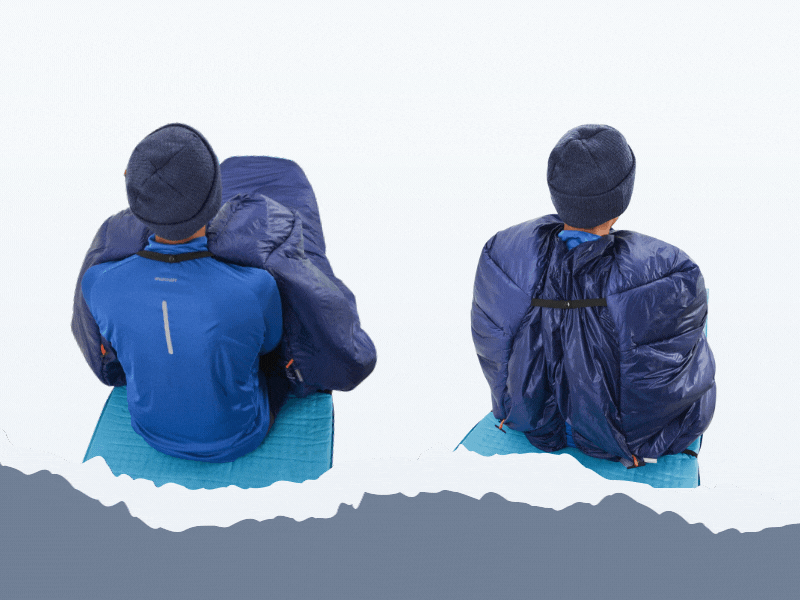 How to keep your quilt from sliding off you?
The sleeping pad attachment system keeps the quilt in-place so you can be like a rotisserie while you sleep.
It is composed of:
① slotted elastic webbing
② ultra thin toggles (1 mm) made from unbreakable polycarbonate
With these two parts, the system minimizes bulky hardware between your back and the pad for a better non-obtrusive sleeping experience.
How to protect yourself from the cold ground?
Quilts (and sleeping bags) are meant to be used together with a sleeping pad – this is the gear that provides the necessary insulation between you and the cold ground.
There are 3 types sleeping pad construction:
closed-cell foam
self-inflating (or open-cell foam)
air construction
Each of these pad constructions has their specific strengths where they perform better than the other types. In some cases, these pads can also be used in conjunction with each other to take advantage of their specific strengths and keep you very well (and reliably) insulated.
Pads have a rating called an R-value that relates to how well the pads resist the flow of heat. Whatever type of sleeping pad you choose to get, keep this in mind – the higher the R-value, the warmer the pad will feel.
The equation is linear, meaning that a pad with an R-value of 3 is 3x better at resisting heat loss than a pad with an R-value of 1. If you are a cold sleeper, consider getting a higher R-value sleeping pad – just like when choosing the comfort temp rating for your sleeping bag or quilt. You won't regret it.
How to layer up inside your Solo Quilt
Start with a moisture-wicking next-to-skin layer – either polyester or wool. Wear a pair of socks and a fleece hat or beanie to protect your extremities and head – this where a lot of heat loss will happen. You can easily take them off when you start getting uncomfortably warm.
Keep thicker insulating layers like a fleece or down jacket inside your bag – ready to put own when you're not getting enough warmth.
The key is to manage your temperature so you never sweat inside your quilt. If you wake up sweating because of too much layers, it will make you really cold due to your sweat cooling on your skin and it will be difficult getting warm back again.